The elderly who exercised or gathered at the Temple of Heaven were captivated by two foreign men who one day appeared and performed some kind of street dance. The old people were curious about the movements. Later, they were taught to play strange musical instruments to accompany the dance.
This was a scene that appeared in a program produced by SexyBeijing.tv, an Internet TV station that focuses on Beijing life. Jamel Mims and Leroy Philpotts were the men on the show, doing Capoeira, an Afro-Brazilian dance form that incorporates self-defense maneuvers and is now finding a following in Beijing.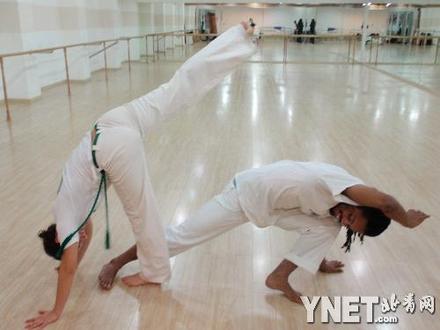 Capoeira classes in town
Ed Zingu, 27, who came to Beijing last December from Cape Town, runs a Capoeira class at Workers' Stadium. He has both Chinese and foreign students, including Mims and Philpott who performed at the Temple of Heaven.
Zingu, who has been studying Capoeira for about seven years, got involved in the art in his native South Africa. "It started out as a group of five friends who had a love for Capoeira and it developed over time into one of South Africa's strongest groups," he said. "The thought of stopping was just not something I was willing to consider. His Beijing classes began in mid-September, with beginners' classes every Sunday and advanced classes every Thursday and Friday. Zingu teaches the advanced classes, while Tord Loevdal, a Norwegian former student, teaches the beginners. It requires a lot of time and patience to master Capoeira, so Zingu said he tried to create an environment where students could train as much as their schedules allowed.
About 20 students are now enrolled in their classes — a mix of foreign students, young professionals, teachers and members of the diplomatic community. "They are as diverse as can be imagined. People from five continents but with a common love for Capoeira," Zingu said.
Dance and martial art.
People interchangeably use "dance" and "martial art" to describe Capoeira, but enthusiasts prefer the latt. "It's a holistic martial art, but more than just a fighting style," Zingu said. "It's filled with traditional dance, acrobatics and music. Moreover, it's a conversation between two people which at times is fun and can progress to being challenging and at times dangerous". Philpotts, who appeared on SexyBeijing.tv, said: "It's definite a "martial art", but disguised as a dance. So if you wanted, you could use it to defend yourself".
It's students say Capoeira creates a sense of family, which is what they enjoy most. "There is a strong sense of connectivity between Capoeira practitioners in Beijing", Zingu added.
Philpotts, from the Netherlands, attends class every week. "Though I have been studying Capoeira for five years, I learn something new each class", he said. "There is no ultimate level and you never stop learning". A beginner from Malaysia called Fang Enting, a student at the Beijing Film Academy, was only on his second class, but was getting hooked. "I like it because it's different from typical dances and refles African culture," he said.
Seeking more locals
Although Capoeira has penetrated Beijing and Shanghai, it is still not as popular as it is in other countries. "Capoeira in China is not as popular as it is in the West or in Japan where you can easily find people dancing Capoeira in the street", Jamel Mims, the other performer in the video said.
Zingu has only two regular Chinese students: Ding Dong, who plays samba music that helps him learn Capoeira, and Polly, a dancer who got to know the art through a free workshop in August. He hopes more Chinese people will join them.
"To attract more locals has always been the plan", Zingu said. "Everywhere else that I've been, Capoeira groups have been full of local residents. I think this is one of the few instances where it's almost completely foreign". Perhaps it is the language barrier or the differences in defining martial arts, but Zingu is not sure how to bridge the gap. He is planning, however, to put together a group that will perform around town and bring Capoeira nearer to the locals.