Instructora Bolacha (23):
I have been practicing capoeira for over 10 years now, since I was 11-years-old. I remember picturing myself doing everything that these people were doing with their bodies during an assembly demonstration at my elementary school and signed up for the program right away. I began training capoeira as an after school activity and fell in love with the art. I was quiet and shy growing up; capoeira has given me self-confidence and helped me overcome so many obstacles.
Everyone has a different story and journey in life. I have come to realize that my place on earth is to help others not only to teach others, but to also learn from anyone and everyone. To have a positive outlook and to dream big is my personal philosophy in life and this is only the beginning of what capoeira has offered me so far. All it takes is imaging your self doing something and that first step can make a huge difference. I cannot imagine where I would be if I did not sign up for this after school program to take capoeira. I believe this is faith and my calling in life to continue benefiting and growing from this beautiful art.
Traveling to Brazil at age 16 was out of this world, it was beautiful; to travel to another country is a learning experience every single step of the way. I learned that there is more to life outside of the city we live in; there is a whole new world that can open the eyes of every individual. To play capoeira with natives of Brazil made me appreciate and hungry to learn more about this amazing art. Capoeira has so many elements, I cannot say that I like one part more than the other, I like all elements of capoeira. Although we all have weaknesses and strengths because no on is perfect, I've learn to share my strength with others and ask for help on my points of weakness within capoeira and within life in general.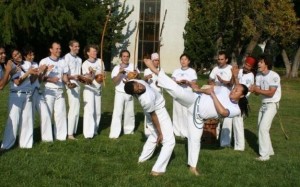 My teaching experience began with assisting Contra-Mestre Malandro with his kids class and I eventually began teaching on my own and was later asked by Mestre Marcelo to take on another challenge of teaching adults. Every new experience was a challenge in its own little way, feelings of nervousness and doubts, but I have come to realize that a challenge only makes us mature through practice; just like any capoeira movement, with practice anything is possible. Since I work a lot with children and have just received my Bachelor's degree from San Francisco State University in Child and Adolescent Development, I like to use what I've learned in college in my classes. I can make classes really fun by creating games and I am very patient and able to break down movements for any level, age, gender, background and the list is endless. Capoeira is available for all types of people.
Since this is a community base art, a great capoeira instructor begins to not only think of their capoeira skills, but also the growth of their adopted family members who are other capoeiristas.
From my written commitment prior to receiving my Instructor's belt in May 2009, I will continue my capoeira journey with my quote, "I use to like capoeira, I have fallen in love with capoeira and now I AM CAPOEIRA," as a motivation to keep on reaching my own personal goals and help others reach their goals.
Biscoito (22):
I started capoeira at the age of 9 in an after school program at Hawthorne Elementary in Oakland, California. Watching the capoeira players during a school performance made me realize this was something I wanted to do; their fast kicks, high jumps and flips was just extremely incredible. After training for a few weeks my sister and I were given our Capoeira names, we felt really special, but still did not know what our names meant. We had so many guesses and during our first batizado (baptism) when we received our light green belt in 1997 we were told what Bolacha and Biscoito meant. To be honest I didn't like the name Biscoito, which means Cookie because I wanted a tough name, but I eventually grew into it.
My first year of training was a bit challenging, due to the fact that I was a little overweight for my age. I was not the typical size for my age, but I tried to push myself a little harder every single class and stayed committed . It was really easy for me to push myself because this was something I wanted to do, and not something that I was forced to do. Capoeira was so much fun while training as a kid. After a few years I became more of an advance student, so I was already like a leader for the other kids who were new to the program. When I was younger I used to also train with some of the adults in our capoeira group. They became like my older brothers and sisters and very all very amazed during my games the rodas.
During my teenage years I became involved with a group of youth who were always looking for trouble. The less time I dedicated myself to Capoeira, the more trouble I was in. At this stage of my life I took a break from Capoeira because of my new "friends" in high school, who I thought were cool. Growing up in Oakland, California, many young people can easily get influenced to join gangs, sell drugs and so many other negative activities. As a teenager I was always getting into trouble and becoming more and more rebellious. My turning point or wake up call was at age 17 when I was thrown in Juvenile Hall and was locked up for breaking the law with of few of my "friends".
Thereafter I tried to find something more positive to do with my time, so I started playing basketball for a team. One day my sister, Bolacha, told me that our old Mestre (Mestre Marcelo) wanted to see me. So, I stopped by to see not just an old friend, but also my teacher, my mentor, and my role model. This was someone, I have always looked up to and have always gone to with my problems. Mestre Marcelo gave me a chance to come back and train, but at that moment it just did not feel like the right time. Then I went to my younger brother's first Batizado in 2007, and watching him play brought back so many great memories. It gave me a flashback to when I use to play capoeira as a little kid. This was a special moment that made me realize that I miss and love practicing Capoeira ,so why not give it a try. A month later I went back to Mestre Marcelo and accepted his offer.
A year and a half later my sister, Bolacha, found a job for me teaching capoeira in an after school program at a High school in Oakland. Teaching teenagers from the same neighborhood was a bit challenging at first, but of course I grew into it. Knowing that I am making a difference keeps me going everyday. I begin my classes with a good stretch, a quick warm-up with kick and escapes, and thereafter some partner training, very simple. Returning to capoeira has given me so many more positive opportunities and this is something that I do not regret one bit.
Instructora Bolacha and Biscoito:
Our goal for Capoeira Mandinga Shanghai is to be of as much resource to students as possible. We would love to exchange capoeira songs and teach the flow of a capoeira game in a "Mandinga" way of playing. We would like for people to set short-term and long-term goals related to their capoeira skills; in one, all or any capoeira aspect. Our own goal, for the time that we are here is to help as much as we can and be apart of a growing extension of our Mandinga family. One advice for Shanghai Mandinga is to keep on doing what you are doing because you are all moving in the right direction, but also take in as much from us as you can because capoeira can be done by anyone, but the style of Capoeira Mandinga is one of a kind.