Monday June 2nd capoeira class at 6pm!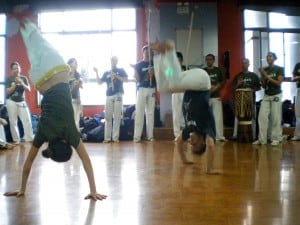 Camaras! On Monday June 2nd, being a national holiday, capoeira class will be at 6:00pm. See you there!
By
Instrutor Guerreiro
|
2014-05-28T11:19:15+00:00
May 28th, 2014
|
News
|
Comments Off

on Monday June 2nd capoeira class at 6pm!
Diego "Guerreiro" started training capoeira in Napoli in 2002 with the group Capoeira Triarte. In September 2005 he moved to Shanghai, where he started organizing a capoeira group composed by students from all over the world. In October 2007 he invited Mestre Marcelo to Shanghai for a 3 days workshop. That event changed the history of Capoeira Shanghai, which became part of Mestre Marcelo's group "Capoeira Mandinga". Diego was given the apelido "Guerreiro" and continued teaching as monitor of Capoeira Mandinga Shanghai. After three years of hard work in Shanghai, in September 2008 he could finally organize and enjoy the first Capoeira Mandinga Shanghai Batizado, where he obtained his yellow belt. In 2012 at Capoeira Mandinga Shanghai 5th Batizado he became Instructor and in 2015, in Oakland (Mandinga Formatura), he became Professor Guerreiro.
Comments are closed.