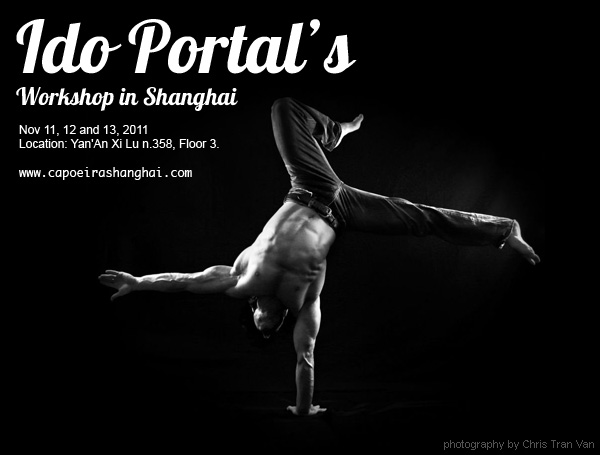 Camaras! 【中文翻译见下文】
Ido Portal will come to Shanghai for a weekend workshop on November 11, 12 and 13! Most of you already know him; some of his videos are on YouKu.
It's a great opportunity to learn from one of the best movement and balancing trainers in the world. These are not traditional capoeira workshops but something different, special, which will be extremely useful for all of us in order to improve both our equilibrium and floreios.
Everyone should try to attend to all the sessions of the workshop, both beginners and intermediate will benefit from it.
Workshops will focus on communication, floreios and strenght.

Schedule:
Friday November 11
Saturday November 12

11:00-13:00: Session II
16:00 – 18:30: Session III

Sunday November 13

11:00-13:00: Session IV
16:00 – 18:00: Session V
Location: Our gym on Yan'An Xi Lu n.358, Floor 3.
The price is the following:
200rmb for one session
500rmb for 4 sessions
550mb for 5 sessions
If you can attend the workshop please register online here!
中文
著名的技巧和卡波耶拉教练IDO PORTAL 又将回到上海,他将会在11月11日至13日在上海举办培训班。这次他将在上次教授如何练习好平衡的基础上,将会加上一些有关平衡方面的动作练习。
课程安排:
周五,11月11日
19:50-21:50 Session I
周六,11月12日
11:00-13:00: Session II
16:00 – 18:30: Session III
周日,11月13日
11:00-13:00: Session IV
16:00 – 18:00: Session V
学费:
一节课 —— 200人民币 (单独)
四节课 —— 500人民币
五节课 —— 550人民币
地址:延安西路358号3楼