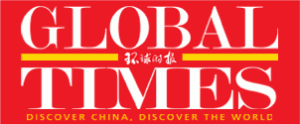 "Rumbling with rhythm and rhyme", By Christian Lindberg.
Source: Global Times, November 19th 2010.
While kung fu can turn someone into a lethal weapon, it probably won't do much for their dance moves. Fortunately for those hoping to add some swing to their self-defence there is the latest cultural export to explode out of Brazil: the indigenous martial art known as Capoeira. At a gym near Zhongshan Park you can find Capoeiristas practicing this acrobatic martial art. Every Saturday the doors of the gym are open to those who want to give this unique sport which combines music, dancing and self-defense a try. Currently there are around 40 men and women from all over the world taking part in Capoeira Mandinga Shanghai.
Small beginnings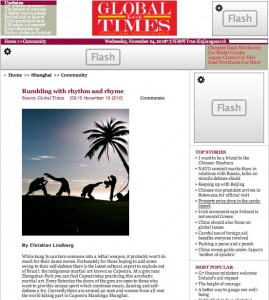 Italian Diego "Guerreio" Pappalardo, 28, first came to Shanghai in 2005 to study Chinese and now works for an Italian bank in the city. After practicing Judo for many years, Pappalardo first came in contact with Capoeira in 2001 after watching a Capoeira street exhibition in Napoli, Italy. "I was looking for a complete martial art and I found something in Capoeira which was rich in culture, music and fun," Pappalardo said.
When he first moved to Shanghai Pappalardo searched for a Capoeira group to train with but couldn't find any. Eventually he found a small group that trained in a park in Shanghai on the weekend. However, the organizer of the sessions left in 2005. "Later a French guy and I started teaching the classes. The group became bigger and we started renting a gym in the city where we could train," Pappalardo said.
Although he had no initial plan to start up a club, as time passed Pappalardo became more and more committed to the group. "Foreigners from everywhere joined us and since last year some Chinese have joined our class as well," Pappalardo told the Global Times.
Famous Capoeira Mestre (master), Marcelo Caveirinha, who was the motion capture actor for the Capoeira fighting character Eddy Gordo in the video game Tekken, was invited to Shanghai by Pappalardo in 2007 where they organized a workshop together. "We had an amazing weekend with him and after that we became part of his group, Capoeira Mandinga," Pappalardo said. Caveirinha also gave Pappalardo his apelido (nickname) "Guerreiro" which means warrior in Portuguese.
Not only is the club a great way for people new to the sport to learn from more experienced Capoeiristas, but it is also a very social group for many of the participants. "It can be hard to make new friends in the big city if you work long hours like me. This is also the perfect place for me to gain more positive energy," Xin Liu from France said.
At a Saturday training session more than 10 nationalities are represented. Eight of the participants are from China, but only one female Capoeirista hails from the sport's homeland. According to Pappalardo, recently a lot of Chinese people have shown great interest in Brazilian culture. Everyone is welcome to come down to the gym and give it a try. "Sports keep people fit. Capoeira happened to be the sport that meets my needs and I also think it looks very cool," said Leon Sun from Shanghai, who has been training with the group for two months.
More than fighting
"To be a good Capoeirista you need to learn the basic moves and kicks, as well as traditional Brazilian instruments and Capoeira songs," Pappalardo said. Music plays a big part in Capoeira. It sets the mood of the match taking place within the roda, a circle of people surrounding the participants. A Capoeira match begins when one of the players calls his or her opponent into the roda. The ritual is called a chamada. A chamada was originally designed to enhance the awareness of the danger in the roda. It was considered a life lesson: if you challenge somebody, be aware of the possible consequences. The player who initiates the match then decides when to finish it.
The roda usually commences with a song in Portuguese. "Learning the words of the songs in Portuguese can sometimes be a bit tricky because of the pronunciation," said Pappalardo, who needs to teach in both English and Chinese. First there is usually a solo sung by one of the participants before the rest of the group joins in. Songs can be written and made up on the spot. Songs are both old and new and the lyrics cover anything from history to mythology to fables. Capoeira Mandinga emphasizes friendship and camaraderie. For example, if somebody forgets the words or a melody to a song or if some of the complicated moves seem too impossible to execute, there is immediately somebody there to help out.
Every training session begins with an hour of music practice. Some new comers bring notebooks to record the difficult foreign words they need to remember. The music associated with the sport contains some typical South American rhythms like the samba. The singing and clapping is also accompanied by several kinds of percussion instruments. A pandeiro or tambourine, a drum called an atabaque and a spear-looking instrument called the berimbao make up the small orchestra. A berimbao consists of a bow made out of wood and a string made out of steel which is tightly attached from top to bottom. A gourd is used as a resonator.
Finding Brazilian instruments in China can be difficult. Mestre Marcelo, who regularly visits Shanghai, usually returns with different instruments so the students may purchase them from him for a cheaper price than they would normally pay in Shanghai.
The second phase of the training is the warm-up and going through the steps of the ginga. The ginga is the fundamental movement in Capoeira. In the steps one rocks back and forth on the spot while one's arms are guarding the face, which allows one to more easily block the opponent's attack. Also when players are tired or confused, the ginga allows them to focus once again and regain their composure.
The exercise is followed up with lessons in high-flying kicks and fighting techniques, some of which are hard to perform and separate the amateur from the expert. "The hardest part for me is facing my own fears, but it's a lot of fun flipping and kicking," said Mu Jin, a local who was recently introduced to the group by a friend. The final part of the training is the roda where everyone participates. As the hammering rhythmic sound of the berimbao resonates along with the other percussion insturments, the claps and the singing get more and more intense, and the group is filled with visible positive energy. "Sometimes we get some complaints for being a bit too loud," a student giggled.
Latin martial arts
When comparing Capoeira to kung fu, Pappalardo feels that Capoeira is less straightforward in all its moves. "It is a spontaneous dialogue between the players, it is a fight disguised as a dance," he said. "There are many great benefits from practicing the Brazilian martial art. It's a complete sport where you can develop coordination skills and get a great work out," a student in the class said.
After a few years (usually at least seven to eight years) a student can graduate and become an instructor. There are different belts awarded until the instructor becomes Mestre. Usually it takes at least 20 years for someone to become a Mestre but not everyone who trains for that long becomes one.
Some injuries like a sprained ankle may occur but the sport is no more dangerous than playing any other contact sport, according to Pappalardo. "The purpose is not to harm your opponent in the roda, it is more about sparring and showing your skill," he said.
The students of Capoeira Mandinga Shanghai are first of all friends who want to hang out and have fun together. "Capoeira is for everyone, young and old. Once you practice, you will have fun even if you can't do the more sophisticated acrobatic movements," Pappalardo said. In the game there is no clear winner or loser. Instead of an intense "game face" there is a smiling almost teasing face on each of the capoeirstas.
For Russian IT manager Alex Maltsev, it was a dream to learn Capoeira. Before he came to Shanghai his first contact with Capoeira was as a child after watching several martial art movies. Because of its unique movements the sport has also been featured in a few video games.
Pappalardo believes 10 years from now there will be a lot more groups around China practicing the art, and even Chinese instructors. "At the same time I'm sure that there will also be different styles of Capoeira being developed, more similar to aerobics in order to be easily taught in the gyms," he said.
Outside the gym on the street below pedestrians wonder where the singing, clapping and the laughter is coming from. Perhaps one may enter the gym destined to become Shanghai's first Mestre.
A song, a dance, a fight
Initially developed by African slaves Capoeira has a history of over 400 years. The sport is currently taught by Mestres (Masters) in over 90 countries all over the world and is the only indigenous form of martial arts to come from the Americas. There are different styles within the sport but Capoeira Angola is considered to be the oldest form. Some historians claim that slaves developed the dance-like moves of Capoeira as a way to hide their combat and self-defense training. The songs and music were also a way of hiding the training from the slave masters.
Many of the slaves were locked up in chains and ropes which explains how many of the advance fighting techniques were developed. An example is the au batido. The move looks like a cartwheel which then turns into a block and a kick. Capoeira consists of kicks, sweeps and throws and evasive moves and rolls. Professionals often show great skills in acrobatics and physical strength.
For a long time, Capoeira was associated with criminals and outlaws and many of the practitioners were sent to prison. Nevertheless the tradition was still practiced on the streets. Because of the cultural value of Capoeira, Reis Machado, also the founder of the first Capoeira School, convinced the Brazilian government to repeal the ban in the 1930s.
These days Capoeiristas sometimes still perform on the streets which is also a great way to raise awareness of the sport and its traditions. During the 1970s when Capoeira first came to New York, Capoeristas shared the same space as other street performers which may explain why similar moves can be found in break dancing.