Author's archive: Soneca
During centuries, Chinese martial arts and dance have nourished the stlye of calligraphy strokes with their movement control and flow. Why not then bring the poetry of Chinese calligraphy into capoeira movements? This Shanghai capoeiristas let their bare feet and hands become their brushes soaked in Chinese ink. The result is a kind of abstract calligraphy that discloses the patterns created by the contact between the body and the floor element in capoeira. The capoeira performance you will see in this video is the final number in one version of the Illumin8tors' rock opera Solar/Lunar, based on Chinese ancient myths.
Videos by Nico Virtual

YouTube mirror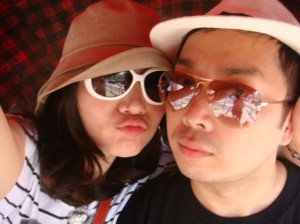 Rinoceronte and Dalila (习枫 Xí Fèng; 杨絮 Yáng Xù) are a very dear couple to Capoeira Mandinga Shanghai. They are a very special pair of individuals, with broad smiles and great sense of humor who bring axé to every training and roda. They are also very committed and hard-working in their purpose of learning capoeira; Dalila had the Highest Training Attendance Rate of the year 2010!
We are specially grateful to them for their help in promoting and explaining capoeira culture to more and more Chinese people. The group has gladly celebrated their love at their wedding ceremony, which has been a really special ocasion to do a capoeira demonstration for all their family and friends. Soneca has prepared a special wedding roda song for them by gathering all the ideas and best wishes from the group Read the rest of this entry »
Capoeira exhibition for the opening of Greenlife NPO's new office
On the 18th of March 2010, after years of managing their activities from their home, the non-profit-organisation for environmental protection Greenlife NPO celebrated the opening ceremony of their new office in Luwan District, Shanghai. Capoeira Mandinga Shanghai took part in the set of performances to entertain the guests, which included Chinese traditional dancing, contemporary dancing, a comedian show, and a couple of music performances.
Over ten capoeristas displayed their kicking, singing and percussion abilities for a crowd of more than 250 people. Most of the audience −mainly Chinese and Japanese− wasn't familiar with the art, but after a couple of minutes of uncertainty on their faces, they soon grasped the fun of the game and the rhythm of the music, then the clapping and cheering spread in the hall. The climax of the show came when Guerreiro went upside down in a solid bananera, that provoked a wave of excited gasping. The acrobatic position and his upper body −lush with masculinity and suddenly unveiled by the fall of his T-shirt− were equally compelling. Sushi delighted us with a flash come back from Japan appearing just before the show to treat us with his neat technique. The audience didn't notice, but Pombinha could not overlook his change in shape since he left the group.